Ross Lynch
Edit
Ross Shor Lynch
(born December 29, 1995) is an American actor, singer, dancer, artist and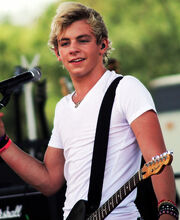 musician. Ross is also in a band with his three siblings and their best friend. The band is officially
named R5. One of his siblings (eldest brother, Riker Lynch) has a minor role on the FOX hit series "Glee" as Jeff Sterling, one of the Dalton Academy Warblers. He was raised in Littleton, Colorado. He plays Austin Moon on Austin & Ally. He also starred on the DCOM Teen Beach Movie, which aired on July 19, 2013. He will also star in the sequel, Teen Beach Movie 2 in 2015.
Laura Marano
Edit
Laura Marie Marano
(born November 29, 1995) is an American 
actress, singer-songwriter and model. She has appeared in the shows Without a Trace and Back to You, in both instances playing the daughter of the lead characters. She is Vanessa Marano's younger sister and is currently eighteen years old. She stars as Ally Dawson on the Disney Channel's Original Series Austin & Ally. Laura Marano started acting in the theatre when she was 5 years old and she has done numerous plays at the Agoura Children's Theatre, and continued her acting in many national commercials. She is a very talented girl and almost always replies to any tweet she gets on her Twitter account. She also plays in an upcoming DCOM in 2015 called Bad Hair Day.
Raini Rodriguez
Edit
Raini Alena Rodriguez
(born July 1, 1993) is an American actress best known for portraying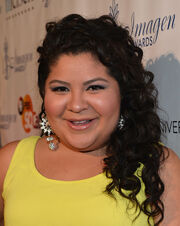 Maya Blart in Paul Blart: Mall Cop. She also appeared in an episode of The Suite Life of Zack and Cody as Betsy, and on the Disney XD show I'm In The Band as Annoying Arlene. She appeared in the 2011 film Prom as Tess. Raini portrays
Trish De La Rosa
in Austin & Ally.
Calum Worthy
Edit
Calum David Webster Worthy
(born January 28, 1991) is a Canadian actor, singer, and dancer. He was born in Victoria, British Columbia. Calum has been performing on stage since the age of
five. He currently stars as Dez Wade on the Disney Channel original series, Austin & Ally. He also has, according to a Laura and Calum Interview, done a movie with Anna Kendrick which has been set to release in early 2013. He has been playing the piano since he was four years old and played tenor saxophone in middle and high school bands.
Ad blocker interference detected!
Wikia is a free-to-use site that makes money from advertising. We have a modified experience for viewers using ad blockers

Wikia is not accessible if you've made further modifications. Remove the custom ad blocker rule(s) and the page will load as expected.